17 grams of plant-based protein.
Looking for ways to get enough protein to fuel your active, on-the-go lifestyle? Our garbanzo and soy medley offers a mild flavor and the perfect crunch for your next meal or snack! Add it to salads, soups, dips, cold or hot cereals or stir-fry to enhance nutrition and taste.
Fueled with Compassion®
Our convenient, plant-based protein toppers provide good nutrition while helping to protect the planet and all those living on it. This first shelf-stable, conscious vegan protein solution is designed for everyone aspiring to invite more compassion into their lives.
$23.99 per 4 6- box case
297 in stock
Case contains 4 boxes, each box contains 3 packets (total of 12 individual serve packets)
NET WT. 1.23 oz (35g) per packet
NET WT. 3.7 oz (105g) per box
NET WT. 14.8 oz (420g) per case
Ingredients:
non-GMO Soybeans, non-GMO Soy,
non-GMO Protein Isolate, non-GMO Garbanzos, non-GMO Soybean Oil, Salt.
Contains Soy.
Made in a facility that processes
tree nuts.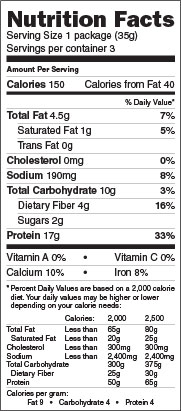 Vegetarian Traveler® Toasted Bean Blends are Fueled with Compassion™; our convenient, plant-based solutions provide good nutrition, protect the planet, and provide peace. The first shelf stable vegan protein that harmoniously blends into the foods you already eat.

We are busy working on new uses and varieties. Watch for our new vegan protein products due later this year!